free tyre and tyre pressure check before your MOT
If you do require tyres we will give you a "no commitment" quote there and then.
Below are tyre details on tyre law and legal requirements which you may find helpful.
Tyre condition
A failure with respect to tyre wear will result where:- The grooves of the tread pattern are not at least 1.6mm throughout a continuous band comprising:
Central 3/4 of the breadth of tread
Entire outer circumference of the tyre
Tyres must be correctly matched with regard to:
Type
Size
Structure
Location on the vehicle with respect to the axles
Also examined:
General condition of tyre
Condition of valve
Tyres fail if they have serious cuts, bulges or other damage. The wear on the tyre is checked with a tyre tread depth gauge to ensure compliance. The tyres are examined to ensure that there is no fouling with any part of the vehicle.
The legal requirements for tyres on UK cars
Remember you need good tyres to drive safely. They are your only contact with the road and affect the steering, braking and acceleration of your vehicle.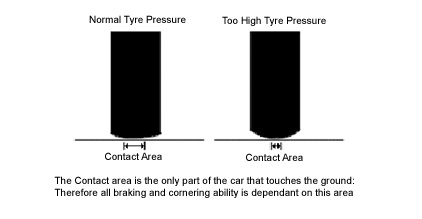 This Page explains the legal requirements and the precautions you should take to ensure that the tyres on your vehicle are safe.
What your tyres do
Your tyres, each with a contact patch on the road of about the size of a large footprint, have to provide ALL of the grip for:
Steering
Braking
Acceleration
They also improve comfort whilst carrying the weight of the vehicle. If you look after them they will work more reliably and last longer. Neglecting them could be expensive in the long run and could even cost lives.
Most car type tyres have tread wear indicators, usually at least six small ribs across the bottom of the main tread grooves, and when the tread surface becomes level with these ribs the tyre is at the legal limit and must be replaced.
The 1.6mm minimum limit applies to
Cars and passenger vehicles with up to 8 seated passengers-not including the driver
Motor vehicles & light trailers (including caravans) up to 3500Kg gross vehicle weight
Part-worn tyres
There are many dangers in buying part-worn or 'second hand' tyres. Their history is unknown and they may have been removed from a vehicle involved in an accident or have been badly damaged by 'kerbing' or similar problems. Repairs may not have been carried out properly, for example to British Standard BS AU 159f.



Contact our team today! Free MOT tyre & pressure check No commitment quotation